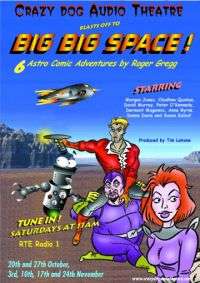 We can't prove it, but we suspect that Octocon holds the record for Largest Audience for a Convention Radio Play. It doesn't hurt that the Radio Play was broadcast live on national radio and repeated a few weeks later.
The good news is that we're going to try and break that record with Big, Big Space. The even better news is that Roger Gregg is writing six 30 minute episodes for broadcast by RTÉ in the coming weeks. That's right, it won't be going out live, but it will be recorded before a live audience at the Royal Marine. The other good news is that it will take three weekends to record all of the episodes, so you'll have three excuses to go to Dun Laoghaire in October.
The crux of the matter is that as the script stands, it requires a substantial number of extras and no matter how versatile Roger and the rest of the Crazy Dog Audio Theatre company are, they simply can't do everything. That's where you come in. Audience participation during the recording will be mandatory. The duties will not be overly onerous and will probably involve some cheering at the hero, booing at the villain and some light singing of the Pirate song.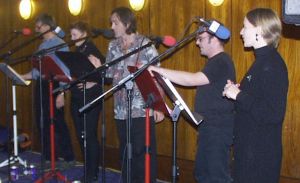 Photo Courtesy James Shields

The bad news is that seating will be limited, so if you want to be an extra in what promises to be the greatest SF radio show ever recorded, be outside the Rosbeg Suite, that's the one downstairs near the entrance, early. The doors will open at about 6.30pm on the Saturday evening and the show will start at 7pm. Don't worry if you've never done anything like this before. On the job training will be provided. The whole shebang will finish up by 9pm.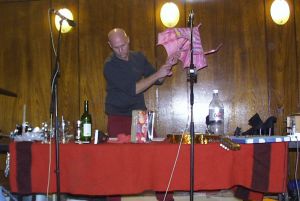 Photo Courtesy James Shields

Don't worry if you can't get in the first night. The remaining episodes will be recorded over the next two Saturdays and you are encouraged to come along.

For more about Crazy Dog Audio Theatre click here.